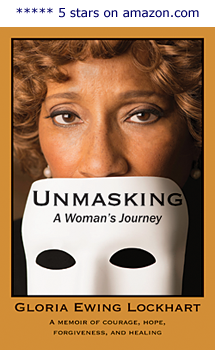 Gloria Ewing Lockhart intimately chronicles the road to forgiveness in her memoir, Unmasking: A Woman's Journey. Her widespread roots began in the segregated South and are revealed as she examines how to triumphantly free herself of confining roles and overcome societal pigeonholes. Her upbringing was scarred by divorce, abandonment, adoption, molestation, and bullying. Through a very personal journey of memory and miles, she sheds her negative mantras along with a multitude of obstacles threatening her life and livelihood.
Unmasking: A Woman's Journey candidly takes the reader from rural beginnings to the summit of Mt. Kilimanjaro, from dark secrets to the spotlight of community service, to accolades and accomplishments never imaged by Lockhart or her family. Gloria shares a way to break one's personal chains and rise to their full potential. Her faith, authenticity, and candor propel her to tell her story for the benefit of us all.
Unmasking: A Woman's Journey is a blueprint for people seeking to transform their lives and become the champions of their own story.
---




Keys to Forgiveness and Healing is a two year calendar, 2014-2015,that can travel with you wherever you go. It has monthly inspirations that will begin to unlock the door to forgiveness and healing in your life. You will be inspired with monthly bible scriptures as well as famous quotations on forgiveness and healing.


"I highly endorse Unmasking: A Woman's Journey.  It is an insightful account of Gloria
growing up in an age of racial discrimination and misunderstanding.  I applaud her ability
to persevere during some of the most tumultuous times in this country's history. 
Her passion for track allowed her to rise above these difficult times. She was able to
take her passion and pioneer track and field for women, opening the door for women to
compete equitably to men."
Bob Parks
Head Men's Track and Field/Cross Country Coach
Eastern Michigan University, 1967-2000

"I really enjoyed this book. Gloria's journey is insightful, heartfelt and at many times, it was very difficult. I found that her courage encouraged me as I read this. I climbed that mountain with her and enjoyed the trip immensely!"
April
Amazon Review

"Loved this book, finished it in in less than a week…Gloria continues to inspire others with her profound courage, astounding hope and extraordinary forgiveness. Gloria is glorious!"
Georgia D. Washington
Amazon Review

"In her debut memoir, an African-American woman tells the story of how she became an advocate for social change.
The book begins with a moving prologue in which Lockhart tells of counseling high-risk teenage girls, setting the stage for the author's story of discrimination, self-hatred, personal growth and self-acceptance. Lockhart was born in Eudora, Ark., and at age 5, after her parents' divorce, she moved to Mt. Pleasant, Tenn. Her mother, Thelma, who dreamed of becoming a New York model, sent the author to Lansing, Mich., to live with her aunt and uncle, with the understanding she could return when her mother had a career and steady income."
Read more...
Kirkus Reviews




Cover photography and head shot by Mark Rehfield